It gives me a great pleasure and truly delighted to welcome each and every one of you to our 22nd World Council of Enterostomal Therapist Biennial Congress 2018 in Kuala Lumpur Convention Centre, Malaysia.
I truly believe that this auspicious event, is a great platform for all with the same vision and mission, get together to share, discuss and network in improving our delivery of high quality and competence care to all our patients. We are delighted to have you here to participate in this congress, and thank you for coming. That many of you travel long distances serves to remind us all just how important this congress to us.
The congress this year is of historical significance and memorable moment for all of us in Malaysia, after 21 congresses and marks 40 years anniversary of WCET, the congress is held in Malaysia! With the theme which is very appropriate to our country, Malaysia - "Ethnocentric challenges in Nursing Care". The theme is the description of our way in evaluating and respect to other peoples, religion and beliefs according to the standards of one's own culture.
This year as many years before, the congresses have had the privilege of having distinguished speakers worldwide to impart their knowledge, skills and experiences for a resounding success of the congress.
Today we shall learn to look through the eyes of others, to find out and experience what the world of Enterostomal Therapy Nursing are offering, which have been expanded and advanced further over the years. It is also my hope to see us grow bigger, wiser and united, regardless our differences in our thinking, culture, languages, religions and practices that we are offering to everyone who attended the conference, an exciting and educational update on stoma, wound and incontinence, besides other topics of interest such as quality of life, infection control, risk management and many more.
I am so pleased to see so many colleagues, professors and friends from all over the world, all in one place. This congress provides a unique opportunity for all of us. And to my knowledge, this is the only congress where you can meet colleagues from your own specialty area, but you can also reunite with your colleague, students and old friends.
The organizing committee have worked extremely hard for the congress to prepare an outstanding congress, while celebrating the 40th anniversary of WCET. Your strong support and active participation have made the congress alive with the spectrum of topics that is very current and broad. An impressive number of distinguished speakers worldwide has been assembled for this congress and plenary sessions.
Generous sponsorships from many industrial companies and organizations international and local have recognized that this congress is an important venue to discuss scientific and evidence-based practice around the world. I would like to mention and acknowledge our major sponsors for their contribution, B.Braun, Hollister, and ConvaTec, our Platinum sponsor. Our Gold Sponsor are Welland Medical, Coloplast, Salts Healthcare, 3M and our Bronze sponsorship are Calmoseptine, Zhejiang Top-Medical and TG Eakin. Thank you so much for this great contribution in making this congress possible and a big success!.
Our local organizing committee and the executive board members of WCET is committed to provide maximum hospitality to all the delegates.
Enjoy your participation in the WCET Biennial Congress 2018 and memorable time visiting Kuala Lumpur and other states in Malaysia, including an educational visit to the 2 biggest hospitals in Kuala Lumpur, Wound Care Unit, General Hospital, Kuala Lumpur and Diabetic Care Unit (Diabetic One Stop Unit including Diabetic Foot Care), University Malaya Medical Centre, Kuala Lumpur.
"Continue to grow and evolve"
Thank you and have a fruitful congress and a wonderful day.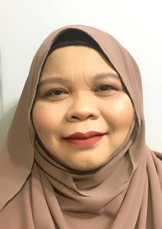 Ms Mariam Mohd Nasir, A.M.N
Cert ICW (Hamburg, Germany) Cert GNLI (Geneva, Switzerland)
MBA (Mal/UK) BSc (Hons) WOCNEP (Hong Kong) SRN SCM
Convenor - 22nd World Council of Enterostomal Therapist Biennial Congress 2018