Assalammualaikum.
Selamat Datang to Kuala Lumpur, MALAYSIA.
I am a Nurse for more than 45 years. I am very honoured and proud to be invited to launch this prestigious Congress: 22nd Biennial Congress, World Council of Enterostomal Therapy (WCET) 2018 and the 40th Anniversary of their establishment.
WCET has become not only recognised as a unique Global Organisation and leader in the specialty of Ostomy, Wound and Continence care but also the leadership and it exemplary commitment to excellence care.
I welcome Nurses from all over the world, who have been given the opportunity and a great platform to present their papers and posters. I am also proud that Malaysian Nurses are given the opportunity to experience this world exposure on "Ethnocentric challenges in Nursing Care". Thank you.
This 22nd biennial congress programme, you will agree is going to be busy and productive. There is a lot to offer for a four-day event. I would like to take this opportunity to thank the Congress Organizing Committee for their diligent work. I would also like to thank delegates, especially those of you coming from abroad, for joining us and sharing your valuable experience and ideas. It is essential to bring together experts in the field of Enterostomal Therapy Nursing, so that we can together increase the quality and standard of our nursing care.
We encourage delegates to participate in the discussions, presentations and hope this Congress helps delegates to share and exchange their experiences, knowledge and development of new collaborations to facilitate and encourage among them.
Please find time to visit some of the beautiful sites in Malaysia.
Delegates, have a fruitful, meaningful and wonderful Congress.
Once again, thank you.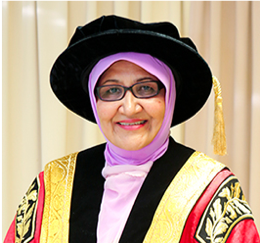 YBhg Professor Datuk Dr Hjh Bibi Florina Abdullah
Pro Chancellor,
Lincoln University, Malaysia